...to the
MSW Program
A Bachelor of Social Work (BSW) degree is an entrance requirement for the 1-year MSW program. If you have a 4 year Bachelor's degree in another discipline, you are eligible to apply to our 2-year program.
Coming from…
Bachelor of Social Work
If after completing your BSW you are interested in pursuing further social work education, the next step is to obtain a Masters of Social Work degree. Our one-year advanced standing program is for individuals who already hold a Bachelor of Social Work from an accredited social work program. Due to accreditation requirements, only students holding a BSW from an accredited program are eligible for this path; there are no exceptions.
4 Year Bachelor's Degree
If you are interested in earning a master's degree you must hold a four-year bachelor's degree, but it does not have to be a degree in social work. Our new two-year pathway is for you. If you do not have a bachelor's degree in a related field, it is very important that you get some volunteer or work experience in Human Services or Social Services (please see our non-academic admission requirements for further information on this). This will strengthen your application for our MSW program. It will also help you discover whether or not a Master of Social Work is the right choice for you.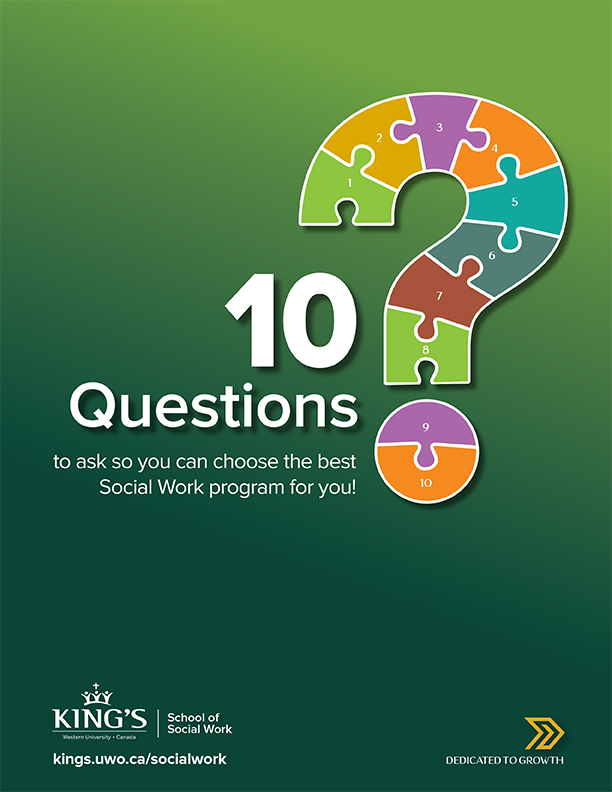 10 Questions
to ask to choose the best Social Work program for you.
Going To...
Practice
For many, the MSW will be the final step in your post-secondary education, although we expect that you will be life-long learners who will pursue further educational and training opportunities as part of your ethical obligations as a social worker.
As a social worker with an MSW degree, you can seek employment in a variety of settings, including mental health clinics, schools, child welfare and human services agencies, hospitals, and private practices. Some of the best-paying jobs in social work are leadership roles and specialized roles, both of which may require a graduate degree.
The societal role and concept of "social work" has expanded to represent a wider array of social justice work, wide-ranging mental or emotional health programs, community organizing, and other such programs with local, regional, national, and international humanitarian organizations. Social work organizational administrators, community organizers, social justice advocates, social researchers and social policy makers are just a few examples of specialized positions that those with advanced degrees and experience can pursue, having the potential to drive change on a greater scale.
PhD or DSW Studies
For others, the MSW degree will be a step towards further formal education. This may be another degree to compliment your social work studies, such as law, public administration, or an MBA to name only a few.
For those wanting to pursue further formal studies in social work, the next step is the Doctor of Philosophy in Social Work (PhD) or Doctor of Social Work (DSW). The PhD and DSW are research degrees that will prepare you to generate the research that will inform social work policy and practice and/or train the next generation of social workers.
MSW Applicants
If you are not able to attend any of the information sessions please take the time to review these Powerpoint presentations.
MSW 2-Year Program and Admissions Overview
MSW 1-Year Program and Admissions Overview

Drop-In Hours
Tosha, the Programs Liaison, has drop-in hours for students interested in the MSW Program and she is available Monday afternoons from 1:00 pm - 3:00 pm unless otherwise noted.
If you would like to see Tosha on a different day, please email julie.siverns@kings.uwo.ca for an appointment.
Any upcoming BSW and MSW information sessions can be found here.